MONTESSORI LANGUAGE MATERIALS
An Introduction to Montessori Learning
Montessori learning is a child focused scientific educational approach developed by Dr. Maria Montessori which is based on the observation of the children from childhood to adult.
History of Montessori Education
Dr. Maria Montessori was an Italian physician, educator, and innovator, known for her innovative educational method that has its basis on building the natural way of learning in children.
Dr. Maria Montessori started the Casa dei Bambini (also called Children's House) in 1907 in Rome. The one-of-a-kind philosophy of Dr. Montessori soon began to attract educators worldwide to adapt this philosophy of teaching the child. This led to many Montessori schools getting started in Europe which slowly spread to North and South America, Africa and Asia. Very soon, Montessori Education became the buzzword around the Educational arena Worldwide.
The increased acceptance of the Montessori way of teaching and learning prompted Dr. Montessori to establish the Association Montessori Internationale (AMI) in 1929 to provide a solid foundation for the future of this concept.
The Montessori approach is based on the understanding of the child's natural learning tendencies in a prepared environment for multiple age groups from 0-3, 3-6, 6-9, 9-12, and 12-14 years. In a prepared environment, the child explores and learns independently.
The Montessori environment consists of specially designed learning materials that encourage kids to learn activities of their own choice and taste. As the child explores, it learns discovering things, developing concentration, starts to become creative and self-disciplined.
Benefits of Montessori Education / method:
Research has shown the following benefits of using the Montessori Method of Education:
Improved co-ordination and concentration in the child
Independence that leads to natural exploration and learning
Active knowledge seekers
Children learn at their own pace without any exerted pressure on them
Creates a family environment and harmony among kids of multiple age groups
Montessori Language Materials that we have developed
The Publishing Division of Inzinc Products and Services has identified the importance of providing quality Montessori Language Materials in India to various Montessori schools and interested parents.
We have been developing few materials with our research and some guidance from IMTC Certified teachers and Montessori School owners.
The following are the Montessori Materials that we have developed:
1. CLASSIFIED PICTURE CARDS: This is a kit of 25 Sets of Cards which are termed in Montessori Standards as "Classified Picture Cards". Here each set of cards are accompanied with Name cards in cursive and a Content list. This has been widely used and recommended by IMTC (Indian Montessori Training Courses) Certified Teachers and Trainers.
The following are the set of Classified Picture Cards included in the Kit.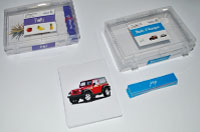 1. Amphibians
2. Birds
3. Clothing Accessories
4. Clothing
5. Dances of India
6. Pet Animals
7. Farm Animals
8. Dry Fruits
9. Flowers
10. Fruits
11. Healthy Food
12. Insects
13. Jewelry
14. Junk Food
15. Living Beings of the Sea
16. Modes of Communication
17. Modes of Transport
18. Musical Instruments
19. Cereals
20. Pulses
21. Planets of the Solar System
22. Reptiles
23. Spices
24. Vegetables
25. Wild Animals
Each set of cards come with plastic box with identification.
2. MOVABLE ALPHABET CARDS (Cursive):
This Product contains vowel cards (10 of each vowel) and consonant cards (5 of each consonant). All the alphabets are of cursive lower case. The objective of this product is to form words with the help of these vowel and consonant cards. This will facilitate writing two-letter, three-letter, four-letter and five-letter words.
3. PINK TOWER CARDS:

This product is to be used as an extended activity to the Pink Tower activity where the child needs to match each piece of the pink tower with each card inside. This Product is recommended for the Montessori and Pre-Schools who use the Pink Tower product.
4. PHONICS FLASH CARDS (th, ng, ck, sh, ch, nk words):
This set of Phonics teaches the th, ng, ck, sh, ch, nk sounding words of English. These are suitable for kids above 5 years of age.




PHONICS FLASH CARDS (a to z words):
Phonics flash cards are an effective method to read and write English.
What is Phonics or Phonetics?
Phonics teaches the way to connect the sounds of spoken English with letters (for example: that the sound/k/ can be represented by c, ck, ch, or q spellings) and teaching them to blend the sounds of letters together to produce approximate pronunciations of unknown words. This set of Phonics cards covers all the alphabets in one set from a to z.
Many More Montessori Language Materials are under development and if you do require, please call us on +91-9379917239 or email to ip@inzinc.in